Through this SDP program, Activeo is recognized for its ability to support customers in Amazon Connect projects. Activeo has met all the highly demanding criteria and demonstrated its expertise in implementing and customizing the solution, which is part of the AWS application portfolio.
Activeo has officially received Amazon Connect accreditation for all its subsidiaries worldwide.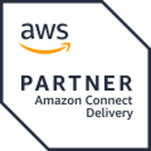 This collaboration reinforces Activeo's position as a trusted partner for customers looking to take full advantage of AWS cloud services.
"Activeo's inclusion in the AWS Service Delivery program is a significant milestone in our joint journey to deliver cutting-edge solutions in cloud computing. This partnership strengthens our ability to innovate – leveraging the power of AI -, meet market challenges in experience, agility, quality, and deliver exceptional value to customers. With the support of AWS, Activeo is well positioned to succeed in the cloud ecosystem and to contribute to the success of its customers in their digital transformation initiatives," explains Véronique Godart, Managing Partner at Activeo. Activeo is also leveraging its Logepal (real-time control) and UC CARE (self-care interface for managing callflow parameters) products to complement the Amazon Connect offering and provide a functional dimension. In addition, the service offering integrated into the project approach (consulting, Build, Run, development, managed services) contributes to the achievement of business objectives, while respecting cost, deadline, functionality and adoption commitments.
Several months ago, Activeo and AWS established a close partnership based on a value proposition around the Amazon Connect multi-channel Cloud solution. Activeo's ability to put its dual technological and business expertise at the service of understanding the need guarantees the success of the project in terms of parameterization and customization based on the power of the solution's AI. Amazon Connect enables contact centers of all sizes to evolve, thanks to a single, unified platform for voice, chat and task management, as well as all interaction channels. Agile, the solution connects to all CRM and ITSM solutions on the market, and can be used without commitment.
Find out more about Activeo's latest communications in partnership with AWS:
During a jointly organized webinar on the theme of "Making your service Frictionless"
At an Amazon Connect / Zendesk / KMS Lighthouse augmented agent demonstration by Activeo
✉️ Would you like to entrust us with your project? A demonstration? Contact us